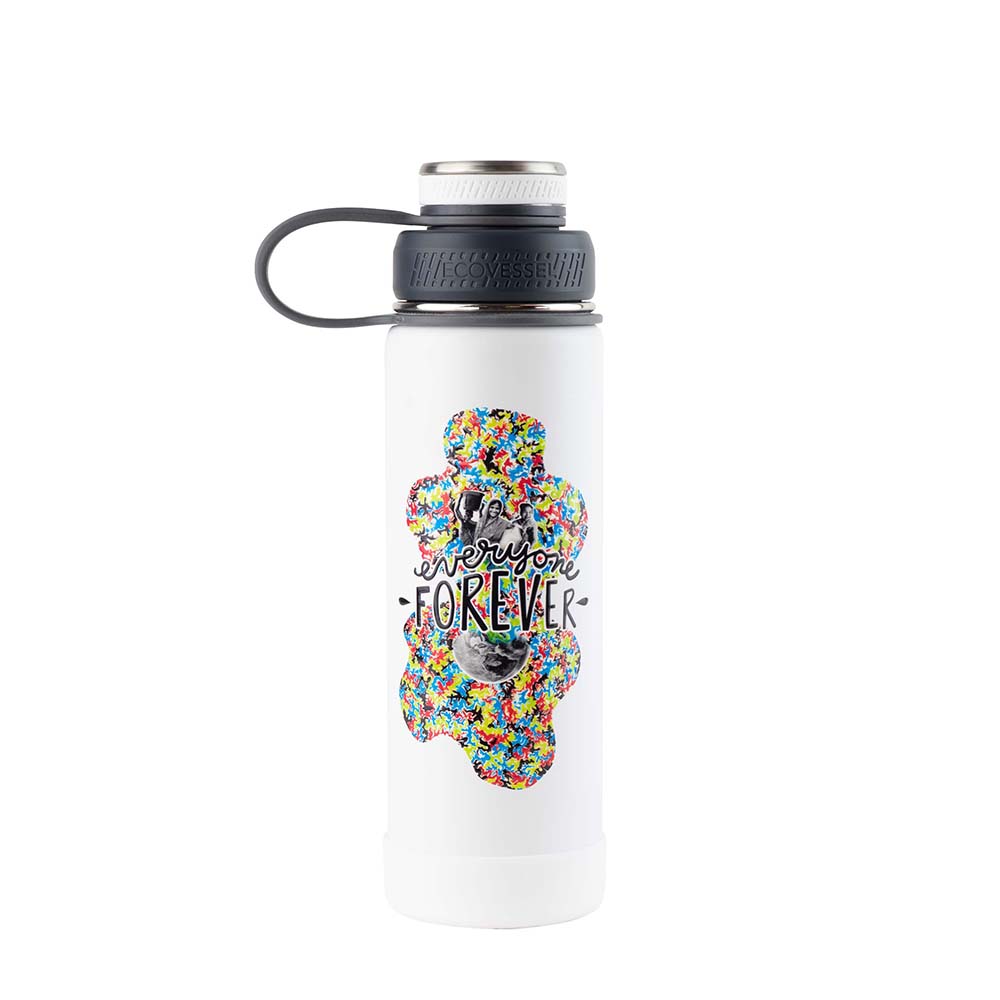 THE BOULDER - Water For People Artist Series - 20 oz
2021 Artist Series Bottle

Introducing our new 2021 Artist Series bottle in honor of Water For People's 30 year anniversary! All proceeds from this bottle will be donated to Water For People. 
About Water for People 
Water For People exists to promote the development of high-quality drinking water and sanitation services, accessible to all, and sustained by strong communities, businesses, and governments.
We are proud to be a long-time partner of local, Denver based nonprofit, Water for People, and have supported the organization through event sponsorship, cash and in-kind donations, and now we're excited to partner on another beautiful artist series bottle for their 30th Anniversary! 
Learn more about this amazing organization here. 
Inspiration for the Artwork
This year's artist series bottle was designed by local artists Desiree and Jason Sornsuwan. Read more about the inspiration for the artwork in their own words below: 
"These designs were inspired by Water For People. We wanted to create a representation of our thoughts, emotions, and experiences from 2020 and still through today.

We have always wanted to create something together. For most of 2020 we experimented with various methods of combining two of our favorite art forms, photography and painting. We were happy with what we were creating together, but eventually started to question why we were limiting our creativity to the edge of a square canvas? So we created our own canvas. Since then, we've stopped thinking that the edge of the canvas is where our creativity ends, and began thinking that's only where it begins.

With this design, we wanted to create a juxtaposition between two contrasting concepts. Something abstract with something tangible, part physical part digital.

Much in the same way we as a society must do today and moving forward.

Today, we live in a divided world. Further polarized by the media, misinformation, greed, and corruption. It is becoming imperative that we as a society must learn to bring our contrasting viewpoints and beliefs together in more meaningful and constructive ways. Everyone's lives are filled with their own unique chaos, but even through this chaos, if we ALL work together, we can ALL build something beautiful together. All of us. Everyone of us. Everyone Forever." ~Jason Sornsuwan
BOULDER FEATURES:
TriMax® Triple Insulation to keep drinks cold up to 60 hours and hot up to 12 hours 
Reflecta™ Insulated Lid

 

ensures that drinks don't touch plastic
Tea, fruit, & ice strainer to infuse your drinks with flavor and block ice
Dual opening lid features a wide mouth for easy filling and a small mouth for drinking
3 inches in diameter and fits most cupholders
74mm Protective silicone bumper protects the base of your bottle from dents
Silicone lip for drinking comfort
Sturdy, flexible strap
Easy cleaning
BPA Free, BPS Free, and Phthalate Free 

100 year warranty 
Recyclable 
20 oz/ 591 ml